Little Boxes
Sometimes, the workings of my mind make me think of that Parker Brothers game, Scattergories. I don't know how to play it—its bright red box isn't one of those taking up room on a shelf upstairs with Monopoly, Scrabble, and Candyland—but I just feel like I have a whole bunch of little boxes with something to say in each one but not enough to make a point with. Quite honestly, I think I'd write a better column if I could settle into Cards Against Humanity or something, but the Scattergories have taken me over, and this is what I've been thinking.
About gifts. In our yard, outside my office window, we have a clothesline. I like to hang sheets and towels out because I love the smell of the sun and the wind in them. However, the towels come out stiff and scratchy and Duane would rather sheets were soft instead of crisp, so I don't hang many clothes. Instead, the suet feeder hangs on the pole and the birds congregate there to eat and scold each other. The deer wander up under the clothesline and look at the window until I move, at which time they chase each other back into the cornfield. I am not outdoorsy by any means, but you can't live in the country without realizing what a gift the outdoors is.
About gas prices. They're ridiculous. Not that they're so high, because I guess the truth is most everything, except wages, has gone up exponentially over the years. No, not because of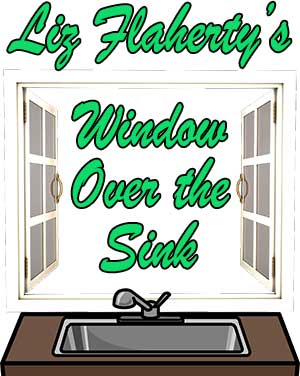 that, but because you can spend a quarter less a gallon in Peru than you do in Logansport. Until tomorrow, when you need to go to Kokomo to spend that quarter less. Surely someone knows what this game is and what its rules are, but apparently it's set up so the same people win every time. I wonder who they are.
About driving in the left lane when you're neither passing someone nor turning left. Please stop it. You're in everyone's way and you're annoying.
About Denver Days. They'll be next weekend, starting Thursday. Peru's Second Saturday is next weekend, too. No reason to cook or watch TV when so much food and live entertainment is easily available and so much fun!
About politics. You have no idea how difficult it is not to write about politics. You're welcome.
About spelling and grammar. Yes, they are important. My freshman English teacher told the story of the parent who complained about her daughter having to take three years of English in high school. "I had to take it, too," said the mother, "and it ain't never done me no good." I rest my case.
On the other side of the same coin, my son-in-law insists math is important, too. However, he is a math teacher—what does he know? Well, maybe more than I do. He understands the whole Order of Operations thing and has explained it to me more than once. I don't get it. Make sure that you do; it will be helpful.
About music. It is the universal language, transcending religion, politics, gender, race, and all other divisions either innate or created. I don't care at all what you like, nor do I expect you to care what I like. But the truth is if you're playing yours loud enough while we're both at the gas station that it shakes my car, that's just dumb.
About milk. It should cost more. I'm glad it doesn't, but it should.
About blue jays on suet feeders. They're obnoxious. And so much fun to watch. They remind me of junior high, when all of life is socially awkward and physically clumsy and puberty was a nightmare from where there was no turning back.
About writing. I'm going to be entering another decade here in a year or so. Should I give it up? Should I not? And then I think, hey, I'm not going to stop coloring my hair, so why should I stop writing?
About girlfriends. I think they should be assigned a family classification, like sister-of-the-heart or wine-and-whine-with-woman. I don't love my girlfriends more than my sister or sisters-in-law, but I probably love them as much.
About being grateful. I am. Every day of my life.
There you have it. The Scattergories episode of the Window Over the Sink. Cards Against Humanity would probably be more fun, but this is a family column. Have a great week.
***
Liz maintains a blog that you can visit by clicking this link: http://windowoverthesink.blogspot.com/
Get her latest Romance Novel Nice to Come Home from Amazon by clicking on this link: https://www.amazon.com/Nice-Come-Home-Liz-Flaherty-ebook/dp/B0788PDJD4/ref=sr_1_2?s=digital-text&ie=UTF8&qid=1531141953&sr=1-2&keywords=nice+to+come+home+to
Nice to Come Home To is the third book in the Lake Minigua series, following Every Time We Say Goodbye and The Happiness Pact.
Attention business owners: Would you like a very inexpensive advertising option. See how you can sponsor "The Window Over The Sink" each Saturday for just $99.00 per month. Call
This email address is being protected from spambots. You need JavaScript enabled to view it.

at 765-878-4510 to learn more!